The training sessions

The "Singing Opera from knowledge to practice" annual training is based on the result of an audition. The work is divided annually into six weeks of training sessions between September 2019 and July 2020.
Each of the eight selected singers must agree to take part in the entire course. They will be joined by two students of the previous years of Le Pôle Lyrique d'Excellence. The former students are more advanced as they are working as professionals more regularly.
More about the 2018-2019 training sessions 
September 2-6, 2019: Mozart / Haendel
October 19-23, 2019: 20th Century Music
January 2-5, 2019: French Music
(including role study of Les Dialogues des Carmélites – Poulenc)
guest: Emmanuel Olivier, pianist and coach.
March 2-7, 2020: Bel Canto Music,
guest: Giulio Mastrototaro, baritone.
May 27-1rst May 2020: German Music
(role study of Der Freischütz – Weber)
guest: Renaud Boutin, director.
July 5-10, 2020: Summary session
APPLICATION
Audition dates: Wednesday 26th of April 2020 and Saturday 2nd of May 2020
Location: École de musique de Dardilly
(Address and map to be found on the "contact" page of this website).
Eight singers will be selected from the auditions to participate in the 2020-2021 year. An additional two "Master students" will take part, which will mean there will be ten singers taking part in each training session in total.

Requirements : Level required: Music Conservatoire entry exam (Bachelor/Undergraduate) minumum.
Repertoire for the audition:
Three contrasting pieces including a Mozart and a German repertoire piece. 
A recitation of text of poetry or a monologue (memorisation of the text is not compulsory, but it is advised).
Material to be attached to the online application:
Filled application sheet (to be download below)
A short text explaining your motivation towards wanting to join the Pôle Lyrique d'Excellence
CV
Headshot
35€ application fees
Opening application period: 5th of February 2020
Closing application period: 10th of April 2020

Fees and Funding for 2020-2021: TBA in September 2019.
AFDAS Funding available - to be discussed with the admission board.
Monthly payment accepted - to be discussed with the admission board.
Age limit: Women born after the 1st of January 1990* / Men born after the 1st of January 1988*. 
* : exceptions can be made according to the profile of the candidates.
Participation in each of the six-training sessions is compulsory.
APPLICATION
The application process is devided in to steps :
Click on « ajouter au panier » (add to basket) 

and follow the instructions. A confirmation email will be sent shortly.


We will then be informed of your will to take part in the audition and we will be able to let you know if your basket has been accepted or so.

Download the PDF application sheet below and return it filled in additional to the 35 € application fees by cheque or bank transfer to the following address :
à l'attention d'Eva Gaillard
Pôle lyrique d'excellence
61, boulevard des Canuts - 69004 Lyon.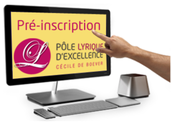 La Pré-inscription web (obligatoire pour l'audition) est close depuis le 18 avril 2019 ||| The web pre-selections (compulsory for the audition) is closed since the 18th of April 2019.
Bulletin d'inscription à l'audition (2019-2020)
Bulletin_PLE_2019.pdf
Document Adobe Acrobat
527.3 KB